Passos para criar uma página de wiki:
Acesse o site http://pbwiki.com
Site name: escolha um nome para sua wiki (de preferências sem acentuaçãoe ç, poucas palavras, sem espaços)
Escreva seu email
Clique em Create my wiki
Você pode assistir um vídeos sobre a wiki enquanto aguarda (opcional)
Abra o seu email em seu provedor.
Verifique se chegou o email de notificação da wiki, abra o email e clique no link com o NOME DE SUA WIKI aceitando a página.
Automaticamente abrirá uma página para você colocará

password (senha de acesso a página, mas lembre-se: se for página coletiva, coloque uma senha fácil e sem acentuação, com letras minúsculas)
What's this wiki for? Selecione no campo a opção educational
Agree to our Terms of Service, selecione esta opção de aceitação dos termos de serviço.
Logo abaixo tem a opção do modo de edição da página

classic editor - para computadores com win95/98
New Point and click editor - para winXP

Take my to my wiki: clique neste botão para criar a wiki

Abrirá sua página para edição, neste momento você já estará logado (log in - entrar e log out - para sair)
Na opção Edite page, você pode apagar as orientações e escrever seu texto de apresentação, o mesmo procedimento para as demais páginas. Sempre salve ao sair.

Observe que você terá uma barra de ferramentas de edição no superior do campo de trabalho.
Para salvar: save
Para visualizar antes: preview
Para sair sem alterar nada: cancel

Utilize o botão coments para deixar seus comentários registrados.
Não pode haver duas páginas com o mesmo nome, então cuidado na hora de criar novas páginas!
---
Página para testes
http://oficinawikifateb.pbwiki.com
email: oficinamenta@gmail.com
senha: cewkmenta

---
Legislação dos Direitos Autorais
---
Aqui você vai encontrar dicas e indicação de sites sobre o WIKI. Fique a vontade para acrescentar sugestões.
Tutoriais
Tutorial Wikispaces
Oficina Wiki - Prof.Gisele
Tutorial Wiki - Prof. Gisele
O que é wiki e seu uso
Como usar tabelas no modo Clássico
Tutorial Wikipédia
Manual PBWIKI
Wiki Escolabr
Como criar e organizar melhor sua wiki.
Vídeos
Conheça o Wiki
Wiki
Vídeo sobre inserir imagens
Sites
Escolabr
Wiki Junior
MediaWiki
Wikipédia: A enciclopédia livre
Software livre Brasil
TWikiBrasil
Wikiquote: coletânea de citações
Oficina de Wiki
Pesquisa na internet
Pesquisa na web.
Aprendendo as regras básicas de comportamento na internet com o Netiqueta.
Recursos para wiki, blog, e outros programas em html e php:
Para colocar vídeos no PBwiki:
(Texto retirado do site http://proa-turma04.pbwiki.com/videos)
1 - Crie uma conta no Youtube: http://www.youtube.com
2 - Coloque lá o seu vídeo
3 - Copie o código que fica ao lado direito do vídeo. No quadro "Embed".
4 - Edite a página do Pbwiki onde queres colocar o vídeo.
5 - Clique em "Source" (na barra de ferramentas de postagem) para exibir o código fonte.
6 - Cole o código copiado da página do Youtube no ponto onde desejas colocar o vídeo. Coloque-o entre um
e um < /p>
7 - Salve a página.
(Para slides - crie uma conta no Slideshare - http://www.slideshare.net ; o processo é semelhante)
Exemplo:
Para você inserir este tipo de apresentação, você deverá acessar o site Slideshare
Entre no site http://www.slideshare.net/
Clique em signup no canto superior direito, abrirá uma janela com os campos de cadastro no site.
Email: seu email de contato
Username: nome de acesso
Password: senha
Selecione Terms of use
Clique em Sings of up
Abra seu email e clique no link para confirmar o cadastro
Acesse novamente a página clicando no canto superior direito em login
Agora abrirá a sua página para fazer uploaded dos seus arquivos.
Para inserir em blog ou wiki é só copiar o cógido embed e colocar no modo edição da página que deseja inserir
Exemplo:
---
Você também pode utilizar a ferramenta Photobucket
O Photobucket é um serviço gratuito que permite o envio de imagens e vídeos e a produção de apresentações/slides de fotos. Ele pode ser útil na criação de webpages e personalização do blog, já que ele fornece o código necessário para a inserção das imagens e vídeos em ambiente on-line.
Veja outro tutorial em Material Didático do GT CETE/SEED-PR.
---
Veja como pode usar a ferramenta de apresentação de imagens Slide.com:
Oficina de Tecnologia na Educação Ambiental realizada na Fateb no dia 19/05/2007 - Parceria CEWK e FATEB
PROJETO DE APRENDIZAGEM COM ALUNOS DO 4º ANO DO CURSO NORMAL/CEWK - PROF. ROSÂNGELA

---
OUTROS TUTORIAIS DE PROGRAMAS EDUCATIVOS EM MATERIAL DIDÁTICO
---
WIKI PARA EDIÇÃO EM WIN98
---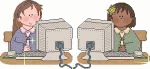 Faça download:
Visitas
Disponível em
http://depositodocalvin.blogspot.com/2006/02/calvin-haroldo-tirinha-202.html